Bailey's Cafe
A Taste of Flavour at Bathurst and Dundas
clean coffee
However you choose to build your cup of coffee Bailey's Cafe will serve you up coffee which consists of organic beans, milk and sugar. Bailey's Cafe is proud to feature the Dark City brand of coffee beans which are organic and fairly traded whenever possible. Only Harmony Organic Dairy non-homogenized products are used in Bailey's Cafe beverages.
Coffee is a massive part of the Canadian culture. You are hard pressed to find many Canadians that don't enjoy a good cup of coffee. Our culture revolves around grabbing a cup of coffee and enjoying conversation with family or friends.
Located at the corner of Bathurst and Dundas Bailey's Cafe is now the place to go for both a good cuppa and relaxing atmosphere to catch up with a friend. The classically inspired decor hearkens back to a simpler time when we could really enjoy ourselves, without being in a rush.
In the modern age we can't always take a complete break away from our duties. If you need to get some work done while refueling Bailey's Cafe has power outlets at each table and free wifi.
Bailey is quite conscious of the perils that our environment faces, so with that in mind he has sourced biodegradable cups and lids, as well as repurposing the burlap bags that the coffee is shipped in. The burlap makes for the perfect sleeve for the cups and is something that is unique to Bailey's Cafe.
To compliment the wonderful coffee, Bailey's Cafe features a wide selection of pastries and breads from Gouter by Ra. These high-quality treats come from French trained pastry chef Rodney Alleguede who has worked in two-Michelin star restaurants. With a pedigree like that you know you will be in for a delectable treat.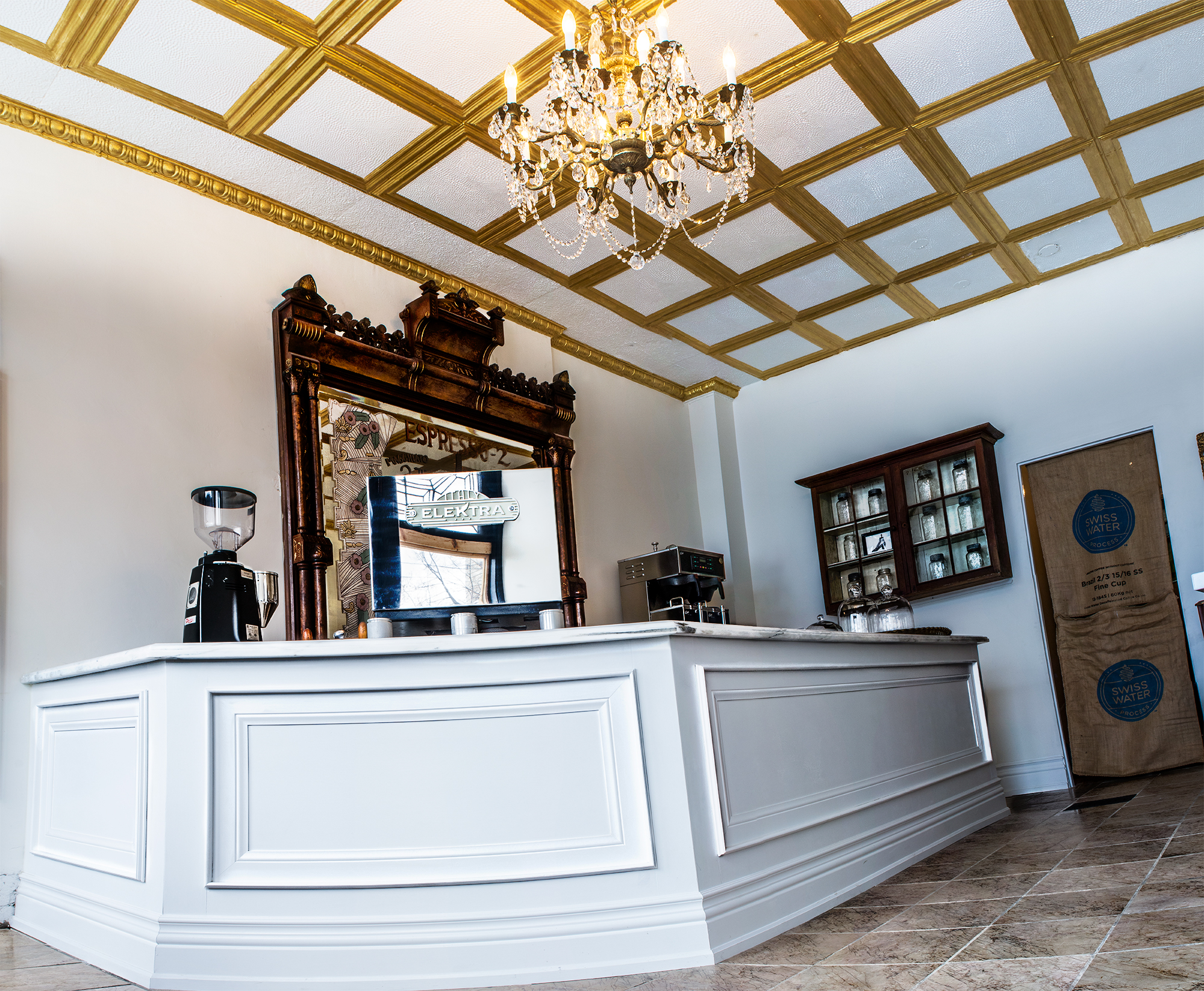 Bailey has traveled the world to select the best beans and dairy possible to use in his cafe. During his journey Bailey encountered myriad adventures including scaling the highest peaks of the Himalayas to the depths of Marianas Trench. Though adventure is in his heart, what keeps bringing him back is the delicious coffee that he brews. As the world's first barkrista, Bailey felt that it was only fitting to share his love of coffee with the people of Toronto. You might think that not having opposable thumbs would stand in the way of making a good cup of coffee, but as an award winning, and trend setting, barkrista you would be wrong.